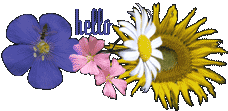 Hello and Welcome to GoldenEarthGirl's new website. When I first opened this website it wasn't exactly uniform. From a link that I found on another site I found a site called Full Moon Graphics where I found this design. It's run by a woman who calls herself Miss Kitty, you should really check out her site. She has some really groovy designs. I'll add a link below.
Let me tell you all about the features on my site. Inside you will find a contents list containing each feature. I have a poetry page where I have all of the poetry I've written over the past years. Next is a quotes page, a place where I have list all of the quotes I've collected. I also have my very first Beatles Fan Fiction called "A scottish Romance." For all the Paul fans out there it's a must read if I do say myself. There are many more cool features and lots more on the way. Can you dig? I dig it! Sorry the hippie in me is coming out. Just don't pay any attention to her.
So why did I pick this design? well. . . I just really like flowers, oh and butterflies so if I throw in a few here, there and everywhere don't be scared.
Enter
Inspirations of the site
Updates
Good news everyone!! Chapter eleven of "A Scottish Romance" is finally up and is waiting for you to read it. Click here for a direct link to the chapter.